Originally published by Global Times on May 04, 2023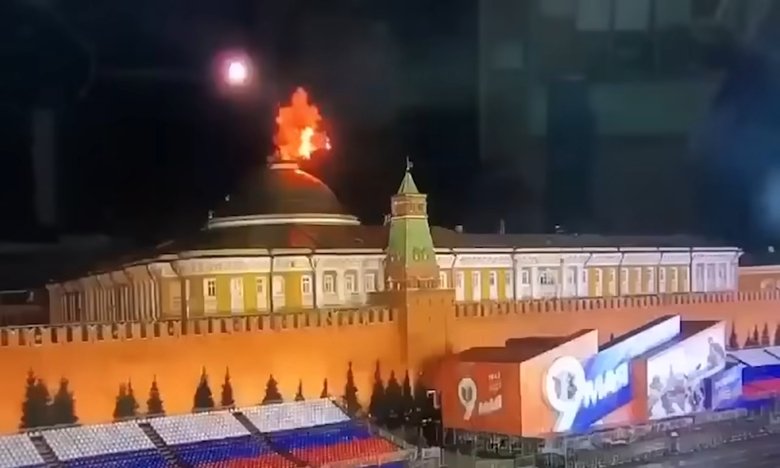 A screenshot of the video.
The Russian presidential administration announced on Wednesday that Ukraine attempted a drone strike against the residence of the President of the Russian Federation at the Kremlin. Sergey Nikiforov, the spokesperson of the Ukrainian President, denied Ukraine's involvement in the alleged strike.
The nature of the alleged drone attack is very serious. Since the outbreak of the Russia-Ukraine conflict, there has never been a public attack on the Kremlin or an attempted assassination on Vladimir Putin. The main targets of previous attacks were military facilities and important infrastructure. "This time, the alleged attack crossed the tacit red line set by both sides," said Zhang Hong, an associate research fellow at the Institute of Russian, Eastern European and Central Asian Studies of the Chinese Academy of Social Sciences.
After the drone attack, who did it and whether Russia will attack Ukraine's presidential palace in retaliation has become the biggest suspense. After all, the drones traveled a long distance and managed to reach the Kremlin, whether they were launched inside Ukraine or within Russian territory. This action is both a shock and a warning. Analysts believe its purpose is to threaten Russia to withdraw its troops from Ukraine and strike a blow to Russia's confidence.
In response, Russia views it as a planned terrorist attack and reserves the right to take countermeasures wherever and whenever it deems appropriate. Song Zhongping, a Chinese military expert and TV commentator, told the Global Times that Russia will likely take two countermeasures. For one thing, Russia will likely implement effective strikes against more significant targets in Ukraine. Even more fierce attacks may be launched in the spring offensives, causing greater losses to the Ukrainian army and reducing its ability to attack Russia.
"For another, retaliation against Zelenskyy himself cannot be ruled out. The possibility of retaliatory strikes on facilities, including the presidential palace and the Ministry of Defense of Ukraine, also cannot be ruled out," said Song.
This will inevitably lead to a further escalation of the Russia-Ukraine conflict. The conflict involves both confrontations on the battlefield and asymmetrical warfare, such as remote raids or attacks on important Russian targets within its own borders, including the Kremlin, to cause some damage. In recent days, a massive fire erupted at an oil depot in Crimea after it was hit by two of Ukraine's drones. Also, an explosion derailed a freight train for a second day in a row in a Russian region bordering Ukraine, sending both the locomotive and some cars off the tracks.
These incidents indicate that Ukrainian intelligence and certain armed groups supported by Ukraine are continuously employing various asymmetrical methods to create more trouble for Russia in order to force Russia to withdraw its troops.
Regarding the drone incident, White House press secretary Karine Jean-Pierre said the US couldn't verify the authenticity of the reports from the Kremlin, and the US is certainly not encouraging or enabling Ukraine to strike beyond its borders. But later on, Dmitry Peskov, Russian presidential spokesman, accused the US on Thursday of being the mastermind of the alleged attempted attack on the Kremlin.
In the face of the alleged attack on Putin, the US came out to state that it couldn't verify its authenticity. By contrast, if it were Zelenskyy who was attacked, the US would have condemned it indignantly. This shows that the US does not take a relatively rational and neutral stance and it's the biggest stumbling block in urging peace and promoting dialogue, Zhang noted. Even recently, the Biden administration is sending a new $300 million military aid package to Ukraine as it prepares for an expected spring counteroffensive against Russia.
It doesn't matter in what form this military conflict is introduced into Russian territory. Now that the drone incident has become Rashomon, it is no longer so important to be entangled in who did it. Moscow has indeed been given a "surprise" and it will certainly respond.
Russia's designation of these actions as a planned terrorist attack will cause significant changes in the nature of the entire military conflict, inevitably leading to further tensions on the battlefield. It will mean that the war will enter a more unruly phase, it will be bitterer and the losses on both sides will increase.
*****
EDITOR'S NOTE: We remind our readers that publication of articles on our site does not mean that we agree with what is written. Our policy is to publish anything which we consider of interest, so as to assist our readers in forming their opinions. Sometimes we even publish articles with which we totally disagree, since we believe it is important for our readers to be informed on as wide a spectrum of views as possible.