In this article the BBC explains how Apple will attempt to frustrate tools used by Facebook to automatically track web users, within the next version of its iOS and Mac operating systems.
Published on BBC.com, June 4 2018
_____________________________________________________________________________
"We're shutting that down," declared Apple's software chief Craig Federighi, at the firm's developers conference.
He added that the web browser Safari would ask owners' permission before allowing the social network to monitor their activity.
The move is likely to add to tensions between the two companies.
Apple's chief executive Tim Cook had previously described Facebook's practices as being an "invasion of privacy" – an opinion Facebook's founder Mark Zuckerberg subsequently denounced as being "glib".
At the WWDC conference – where Apple outlines its software plans for the months ahead – Mr Federighi said that Facebook keeps watch over people in ways they might not be aware of.
"We've all seen these – these like buttons, and share buttons and these comment fields.
"Well it turns out these can be used to track you, whether you click on them or not."
He then pointed to an onscreen alert that asked: "Do you want to allow Facebook.com to use cookies and available data while browsing?"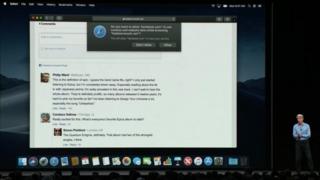 "You can decide to keep your information private."
One cyber-security expert applauded the move.
"Apple is making changes to the core of how the browser works – surprisingly strong changes that should enable greater privacy," said Kevin Beaumont.
"Quite often the changes companies make around privacy are small, incremental, they don't shake the market up much.
"Here Apple is allowing users to see when tracking is enabled on a website – actually being able to visually see that with a prompt is breaking new ground."
He added that the firm appeared willing to flash up a lot of prompts despite the potential for this to become annoying.
"Perhaps Apple is gambling on websites reining in tracking rather than users having to give constant permission to track their device," he added.
Apple also said that MacOS Mojave would combat a technique called "fingerprinting", in which advertisers try to track users who delete their cookies.
The method involves identifying computers by the fonts and plug-ins installed among other configuration details.
To counter this, Apple will present web pages with less detail about the computer.
"As a result your Mac will look more like everyone else's Mac, and it will be dramatically more difficult for data companies to uniquely identify your device," Mr Federighi explained.
To read the full version of this article with the analysis click here.
*****
EDITOR'S NOTE: We remind our readers that publication of articles on our site does not mean that we agree with what is written. Our policy is to publish anything which we consider of interest, so as to assist our readers in forming their opinions. Sometimes we even publish articles with which we totally disagree, since we believe it is important for our readers to be informed on as wide a spectrum of views as possible.