New Cold War.org, May 24, 2015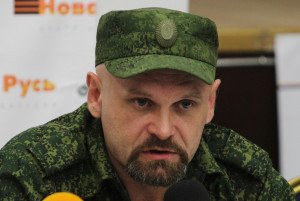 Aleksey Mozgovoy, a leader of the self-defense forces of the pro-autonomy rebellion in Lugansk, eastern Ukraine, was killed in the late afternoon of Saturday, May 23 when the vehicle in which he was traveling was ambushed and attacked.
According to the Russian news site Life News, others who fell in the same attack include his press secretary, Anna Aseyeva, and three members of his security detail. AFP reports on May 24:
"There are seven dead in total," deputy Lugansk prosecutor Sergei Gorenko said at a press conference broadcast by Russian media, though he stressed that the toll was based on early information and could still change.
Aseyeva is a mother of three children.
The ambush took place outside the village of Mikhailovka, east of the Ghost Brigade's headquarters in Alchevsk, Lugansk People's Republic.
Mozgovoy was the leaders of the Prizrak (Ghost) Brigade, which earlier this year was integrated into the self-defense forces of the Lugansk Peoples Republic. In December, the U.S. government placed his name on its list of people in Russia and Ukraine targeted for travel and economic sanctions.
The attack occurred near the same place as an attempted assassination against Mozgovoy on March 7 of this year. Officials of the Lugansk Peoples Republic are investigating the attack.
A video of 'Mosgovoy's manifesto' for a progressive, socialist future in the struggle against war in Ukraine is here, broadcast in February 2015.
In an interview to the Russian news agency APN on August 26, 2014, Mozgovoy made an appeal that was typical of his political beliefs that all Ukrainians are suffering from the rule of the oligarchic elite of that country. He told the APN interviewer, "Many believe that we are the terrorists, or that representatives of another state, not local militias, are fighting here [in Donbas]. We, from our side, try to explain that it is not true. We try getting in touch with those people who speak against us, to prove that we really are the people of this region and that we don't want to fight with them. We revolted for the ordinary people."
Before the war that was launched last year by the new, right-wing regime in Kyiv against the rebellious people in the east of the country, Aleksey Mozgovoy was a singer and soloist in Ukrainian choirs. Here he is singing one of Ukraine's well-known national songs 'My daughter': https://www.youtube.com/watch?v=sKwBuCTn0z4.
A moving tribute to Aleksey Mozgovoy is written by Boris Rozhin ('Colonel Cassad') and translated and published here in English on Slavyangrad.org.
A statement by Prizrak Brigade leaders broadcast on May 24, with English sub-titles and with photos of the scene of the crime, is here, or click on the screen further below.
Three leaders of Prizrak Brigade–Chief of Staff Yuri Shevchenko, Deputy Commander for Combat Training Pyotr Biryukov, and Deputy Commander of Logistics Alexey Markov–issued a statement on May 24, here on video (English sub-titles). They ask people not to "look for gossip or create it" on social media or television and radio. They appeal to wait for the results of the investigation. According to them, the most basic scenario is subversive action by the Ukrainian military.
"Now there are a lot of different theories, but we ask you to follow common sense, and not spread crazy versions," said Mozgovoy's deputies. The deputies also stressed that the Prizrak Brigade will continue to exist and fulfill its objectives.
*****
EDITOR'S NOTE: We remind our readers that publication of articles on our site does not mean that we agree with what is written. Our policy is to publish anything which we consider of interest, so as to assist our readers in forming their opinions. Sometimes we even publish articles with which we totally disagree, since we believe it is important for our readers to be informed on as wide a spectrum of views as possible.